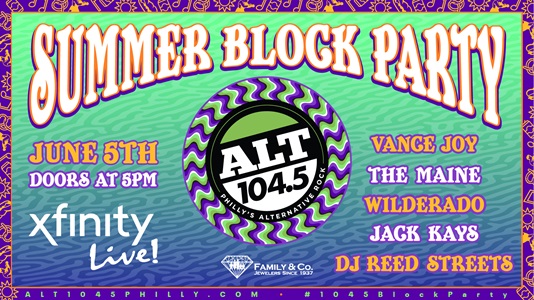 ALT 104.5 Summer
Block Party
A Philly Summer Tradition Returns!
The 2022 Free Summer Block Party is BACK Sunday, June 5th at Xfinity Live! at 5pm with performances by Vance Joy, The Maine, Wilderado, and Jack Kays! It's the first ALT 104.5 Summer Block Party since 2019! These shows are all ages and FREE admission, but you'll need to secure a ticket for admission. You can get tickets by winning them or downloading them with upcoming online ticket raids.
Guest must download an app to access their tickets. After securing your tickets, download the free "AXS" app from your app store.
Register your AXS account using the same email address you used to secure your tickets, or they will not be visible in the app
Your mobile ticket will appear under 'Your Tickets' – located in the bar on bottom of the screen
You will need the QR code to enter the show on June 5th!
The QR code refreshes every 60 seconds! Do not take a screen shot ahead of time, as a screenshot of the tickets will not get you into the show the day of the event
Margarita Fest

Xfinity Live!

We'll drink to that!

5th Annual Sista Strut

Xfinity Live!

Benefitting the American Association for Cancer Research

UFC 275 Watch Party

Xfinity Live!

Xfinity Live! is your UFC Watch Party destination. FREE Entry!

Pride Drag Brunch

Xfinity Live!

Celebrate Pride with Brittany Lynn's Drag Mafia!