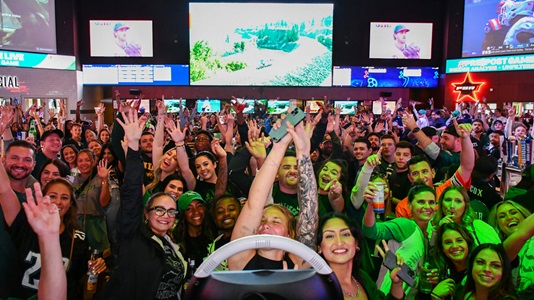 Xfinity Live! plans to be the place to watch the Eagles this season
Football is back in Philadelphia, and when you think of watching the Eagles play, one South Philly spot typically comes to mind. Xfinity Live! has been a staple in many groups when you think of where to bleed green in the city, and for the 23-24 season, there are even more reasons to head to the venue.
"As the host of Philly's largest game day watch parties, we saw nearly 8,000 fans come through these doors during Philadelphia Eagles home games last season," said Justin DeSalvo, Director of Operations at Xfinity Live! in a statement.
DeSalvo continued: "Our goal this year is to make the best game day watch party even better with new and improved fan experiences throughout the entire season for home and away games."
For one, Xfinity is offering Fantasy Football packages until Sept. 4. With this particular activation for large groups, fans will be able to secure three hours of unlimited food and drinks plus complimentary Wi-Fi during their time. The Field Pass Package comes out to be $30 per person and offers different food choices (like nachos, chicken wings, a giant pretzel and more), while the All Access Package comes out to be $50 per person and offers more on the food side (expanded offerings span choices like burgers, sandwiches and tacos.)
Drink add-ons include a 3-hour open bar ranging from $25 to $ 35 per person. Next up for the Eagles Home Opener (Thursday, Sept. 14), from 3 to 8 p.m., fans can head to Xfinity for a concert in its adjacent valet lot where attendees can enjoy a performance by LA-based DJ duo Matt Halper and Eli Sones (aka Two Friends).
According to a release, tickets include access to the event area, outdoor bars and restrooms, food trucks and more. Then after the concert, guests are also welcome to attend Amazon Prime's Thursday Night Football Pre-Game Show taking place in the valet lot, plus, the Birds game will also be shown on an LED screen in the concert area. Tickets start at $20 and can be purchased online at axs.com. This particular event is 21+, and visitors should also note that the concert tickets do not include entry into Xfinity Live!.
New for this football season, Xfinity will also be offering a Birds Seasons Pass for Philly fans—which the venue says is "the ultimate Eagles fan's personalized access cards for the entire football season."
These passes allow cardholders to skip the line for every Eagles home game and playoff home games (Super Bowl LVIII is excluded), and cardholders will also have a special designated Season Pass Holder entrance as well as free entry and access to pre-sale and discounts on all Xfinity Live! upcoming events.
The $200 passes can be purchased online and will be distributed on Thursday, Aug. 31 from 6-8 p.m. at Xfinity Live!, and while there, card purchasers will enjoy live entertainment and drink specials. For those who can't attend this Thursday, the passes will also be available at the Season Pass Holder entrance on Sept. 14, the home opener.
Birds fans can also enjoy Game Day Watch Parties while at the South Philly venue, and the fun always starts before kick-off.
Before every home game, Xfinity will host DJ Smooth Tailgate Parties on the Turf where DJ Smooth of the Philadelphia Phillies and Q102 will be hosting and DJing outside on the venue's turf field alongside co-host DJ Kurt Gibson Jr, plus a rotating surprise DJ. Those who buy tickets to the Tailgate bashes will receive food, alcohol, and free entry into Xfinity Live! with no line. Tickets for the first tailgate (9/14 home opener) will go on sale this week.
Those who are looking for tables are also in luck, Xfinity will be offering reservation options via Seven Rooms with available venues including the NBC Sports Arena, NBC Mezzanine, 1100 Social and PBR Philly. Reservations begin 30 minutes prior to kickoff and include a food and beverage credit, personal server, and designated entry line. And as always, tables in Victory Beer Hall and Broad Street Bullies will be on a first come, first serve for pre-game and game watching.
Xfinity's newly revamped expansion of NBC Arena's LED screen (which is now 58 feet) isn't the only update to their Eagles offerings either. While at the venue, fans can check out cash giveaways during pre-game and post-game, Geno's Steaks Cheesesteak Eating Contests during half-time, Green Legion Home Game Tailgates in 1100 Social, marquee letters and photo-ops, plus new green drinks.
The latter will include the "Yes, It Hurts!" (vodka, coconut rum, blue curacao, melon pucker, pineapple juice and sprite), "The Talon" (Jameson, peach schnapps, pineapple juice and green food coloring), the "We Only Wear Green" (cherry vodka, melon pucker, lemonade and sprite) and "The Kelce Block" (crown apple, sour apple pucker, sprite and apple juice.)
And lastly, for away games, tables are available on a first-come, first-served basis, and different areas have varying food and beverage minimums. As a release states, in partnership with Bud Light, Xfinity Live! will also be giving away jerseys and cash prizes every game. There's no cover charge, and guests must be 21+ to enter.
Read full article here.
By: Molly Given