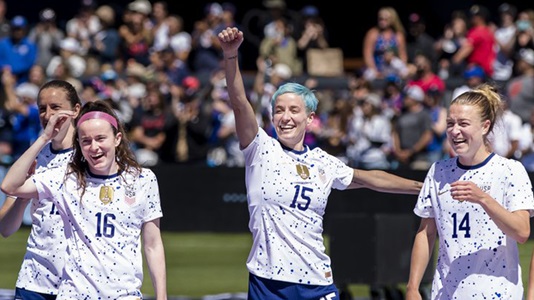 Where to watch the 2023 Women's World Cup matches in the Philly region
The 2023 FIFA Women's World Cup — hosted by Australia and New Zealand — kicks off early Thursday morning, and if all goes well, Americans will have much to cheer about.
Making their tournament debut Friday versus Vietnam, the U.S. Women's National Team is the overwhelming favorite to win the tournament. If they emerge victorious, it will be the team's third consecutive title.
Fans can view the full World Cup schedule online. Each of the U.S. team's matches will air on FOX and FOX Sports 1, and Philadelphians may recognize a familiar voice as Sixers play-by-play announcer Kate Scott will call games.
So far, the USWNT's matches are as follows (in EST):
• Friday, July 21 at 9 p.m. vs. Vietnam
• Wednesday, July 26 at 9 p.m. vs. Netherlands
• Tuesday, Aug. 1 at 3 a.m. vs. Portugal
Here are some of the bars and restaurants across the region that are celebrating the highly anticipated action of the Women's World Cup with special events and deals that coincide with the U.S. matches — the ones that air before 3 a.m. locally, anyway.
Know of any soccer bars in the Philly region that we've missed? Let us know and we'll add them to the mix!
Xfinity Live! | 1100 Pattison Ave., Philadelphia
Xfinity Live! entertainment super-venue is throwing two Women's World Cup watch parties to cheer on Team USA. The free-entry events are scheduled for Friday, July 21 at 4 p.m. and Wednesday, July 26 at 3 p.m. Fans can cheer for USWNT as they take on Vietnam and the Netherlands, watching the action unfold on the NBC Sports Arena's huge 58-foot screen.
Read Full Article here.
By: Franki Rudnesky